The Lough Corrib Collection
CORRIBCOLL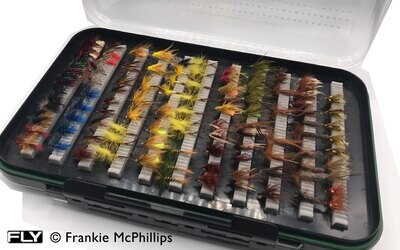 Gifts
Price :
75.99
GBP
In stock
Going to Lough Corrib ?
This Collection contains a comprehensive range of trout flies from our Lough Corrib Category. They are the proven Lough Corrib favourites from March to Late September. Lough Corrib fly fishers have fished with theses patterns successfully for as long as I can remember.
Please note the fly selection shipped, will be slightly different from the flies shown in the image depending upon the quantity of flies ordered.
Fly Box Included
Our selections of lake specific flies come in a Wychwood Vuefinder Competition Fly Box which is a really fantastic way to keep your collections of trout and salmon fishing flies separate and in good order the Wychwood unique locking clip design allowing competition fly anglers to measure selected flies to ensure they meet the International competition fishing regulations and standards.
Wychwood Fly Box With 20 Flies (0)
Wychwood Fly Box With 30 Flies (20)
Wychwood Fly Box With 50 Flies (60)
Wychwood Fly Box With 100 Flies (150)